Face masks are now a common sight across Europe both indoors and outdoors. They can be seen in different colors, styles and designs as people choose to personalize what has now become part of their daily look.
         Many have resorted to wearing reusable, or fabric, face masks as an economical, environmentally friendly, and even stylish alternative to disposable surgical face masks that come in drab colors and need to be thrown away after every use.
         But with their increased use, there are concerns that many people may not be using reusable face masks correctly and following the advised procedures to ensure their effectiveness in minimizing the risk of the virus.
         According to a public survey in the UK in August this year, reusable face masks are the most widely used form of facial covering, with 69 percent of respondents to the poll who wear some form of protective covering, saying they use this type of mask.
         However, the YouGov research also revealed that "just one in eight (13 percent) of those who wear washable, reusable face masks are actually maintaining them in a way that is helpful to stopping the spread of coronavirus."

  The European Centre for Disease Prevention and Control (ECDC) says the "use of non-medical, 'community,' face masks is an option that has been adopted widely and may successfully address the issue of availability and cost."
         Nevertheless, it adds that "although there is no direct evidence that non-medical face masks are effective in protecting the user from COVID-19, data from experimental studies show that non-medical face masks have similar filtration characteristics to medical face masks."
         They say that emerging evidence suggests wearing face masks produces a "five-fold reduction of the transmission risk," with face coverings reducing infection by someone who does not know they are infectious, as well as protecting the wearer.
         Further benefits of non-medical face masks, according to the ECDC, is that they can also be produced easily in large quantities and are reusable, minimizing the environmental impact of the increasingly widespread use of face masks.
         They also say that established standards for non-medical, reusable face masks, as well as considerations for the implementation of their proper use is the key to their effectiveness, and "can be improved by clear guidance and appropriate communication and educational campaigns."
        So, what is the correct way to look after a reusable face mask to ensure it remains effective?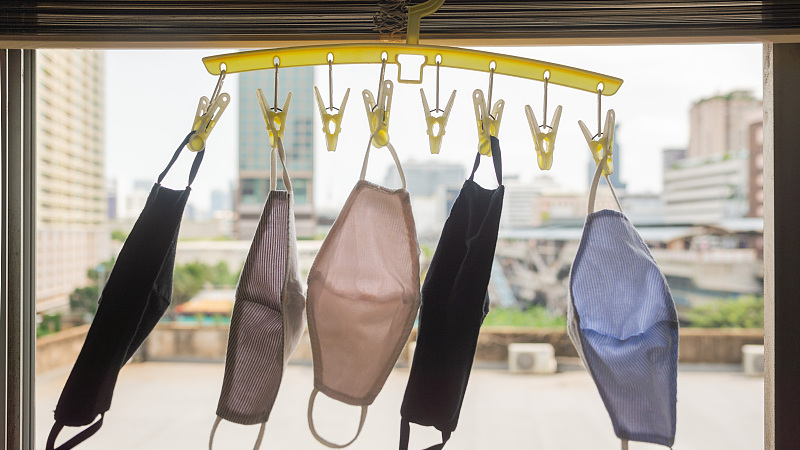 Reusable, or cloth, face masks must be washed after every use according to health experts.
/Jarernchai Torchot/EyeEm/Getty Images via VCG
Wash after every wear
         Health experts agree that to maximize their effectiveness in cutting the risk of transmission of COVID-19, reusable face masks should be removed and regularly washed. The World Health Organization (WHO) explains that means reusable face masks should be washed at least once a day.
         It is important that reusable face masks are kept clean, because although virus particles may not be seen, they could linger for a longer time on fabric and cloth material, causing the risk of transmission both to other surfaces or other people to be higher.
         Unwashed reusable face masks that have been used continuously – being removed, set down and worn again – also risk contaminating the wearer with particles that could have been picked up when the mask was put down on a contaminated surface, entering the respiratory system and causing infection.
         In addition, health experts and the WHO add that wet or soiled face masks are less effective in protecting from, or minimizing the spread of, the coronavirus, as water and dirt restrict the airflow, affecting the mask's ability to filter viral particles.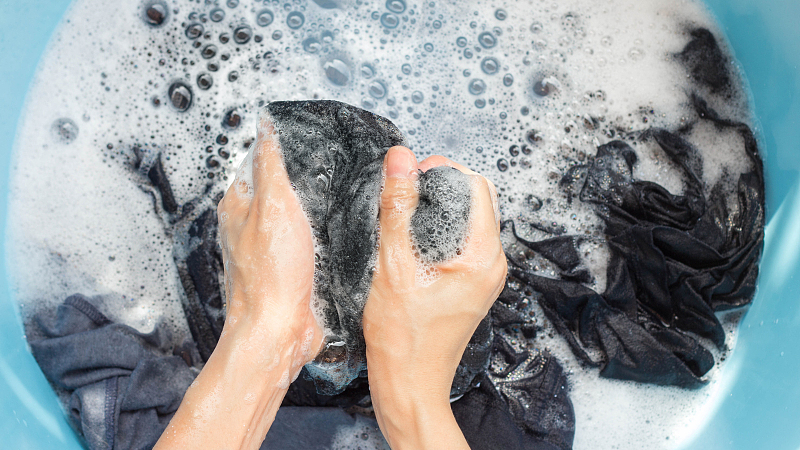 Face masks may be washed both by hand and in the washing machine, but high-temperature water must be used.
/PhornphanPradittiemphon/EyeEm/Getty Images via VCG.
Machine or hand wash
         Reusable, fabric, face masks can be washed with normal laundry in a washing machine using regular detergent.
         However, experts from the WHO and the ECDC, recommend they be washed with the water temperature setting on at least 60 degrees Celsius. For those who may have skin that is sensitive to perfume, using an unscented detergent for the wash may be useful.
         But if you don't have a washing machine handy, or do not want to use it daily to wash your face mask, it can also be cleaned by hand. The WHO recommends using soap and hot water to lather the mask, while scrubbing both sides of the masks thoroughly before rinsing and ringing out all the water. Johns Hopkins Medicine recommends the mask is scrubbed for at least 20 seconds before rinsing.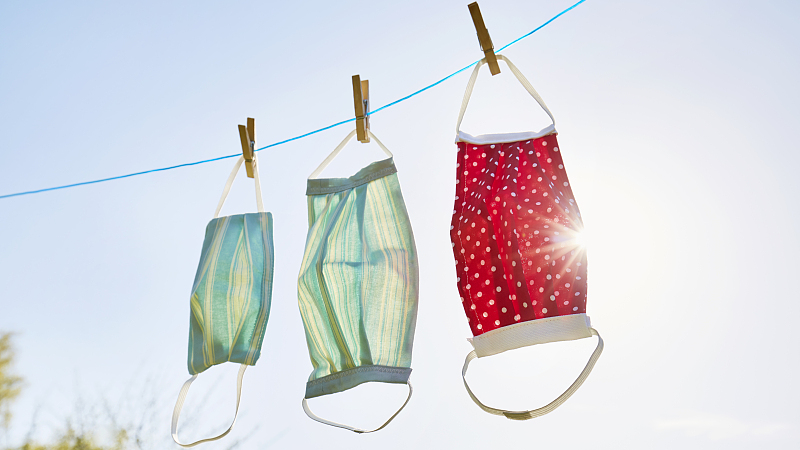 Reusable face masks can be left to air dry in direct sunlight if possible, or in a tumble dryer. /the_burtons/Getty Images via VCG
Air or tumble dry
         Reusable face masks must be completely dry before they are reworn. To air dry the mask, lay it flat on a clean surface or hang it by the straps in direct sunlight if possible. Alternatively, the mask may be tumble dried using the highest heat setting, and left inside until completely dry. You must make sure you check the material specification of your shop-bought fabric mask in case it isn't suitable to be tumble dried.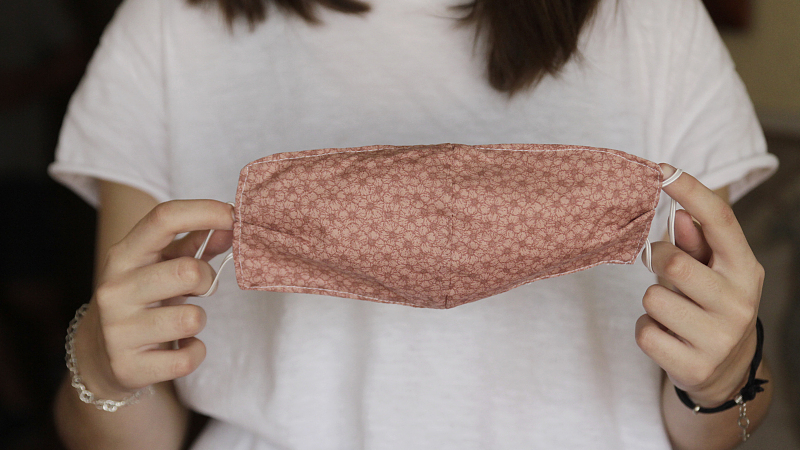 Storing clean face masks in resealable plastic bags before use will keep them from being contaminated.
/Isabel Pavia/GettyImages via VCG.
Store safely
         Once your mask is completely clean and dry, if you are not using it right away, make sure it is stored safely in a plastic resealable bag to ensure it is not recontaminated by being placed at the bottom of your bag or in your pocket.
        When removing the mask from the bag, make sure your hands have been cleaned and disinfected, before holding it by the straps. And there you have it, you're ready to safely and effectively reuse your face mask.
         It may be useful to ensure you have at least two or more reusable face masks that you can swap around while one is being washed. Or just to have one handy in case your mask becomes wet or dirty on the move. 
         And don't forget, single-use, disposable face masks cannot be washed and must be thrown away correctly after every use.